Upgrade: Personal Branding
Do you find it difficult to introduce yourself or succinctly encapsulate who you are and what you do in a sentence?
Do you take a big gulp when asked "Tell me about yourself?"
Are you skilled at doing things but find yourself being short-priced or not paid at all?
Are you considering charting new waters with regards to career change or a newfound passion?
Are you at a point in your life where you have decided to scale up and need people to take you seriously?
Do you feel like you are better than you let on but for some reason, you are not living up to that potential?
If you are experiencing any of the things I have mentioned above, then you are in the right place. Better still, you are with the right person, who has experienced every single feeling outlined above and come out with intense clarity, earning 7 figures and being constantly invited to speak at communications, branding and startup conferences.
How Did I Get Here?
Orange Academy! I studied Integrated Brand Experience course, put my learnings to test with personal brands like Ugoma Adegoke, Victor Ehikhamenor, Rikki Stein, Lemi Ghariokwu and so many others. I also managed brands across industries and budgets like – Dark & Lovely, MTN, African Alliance, Heritage Bank, QuickCheck. I implemented the things I learned in Orange Academy combined it with personal knowledge and experience and it helped my brand as an individual evolve. So, naturally, I would say "Go to Orange Academy" but they don't teach Personal Branding Exclusively and even if they did, it will not be as affordable as 50k.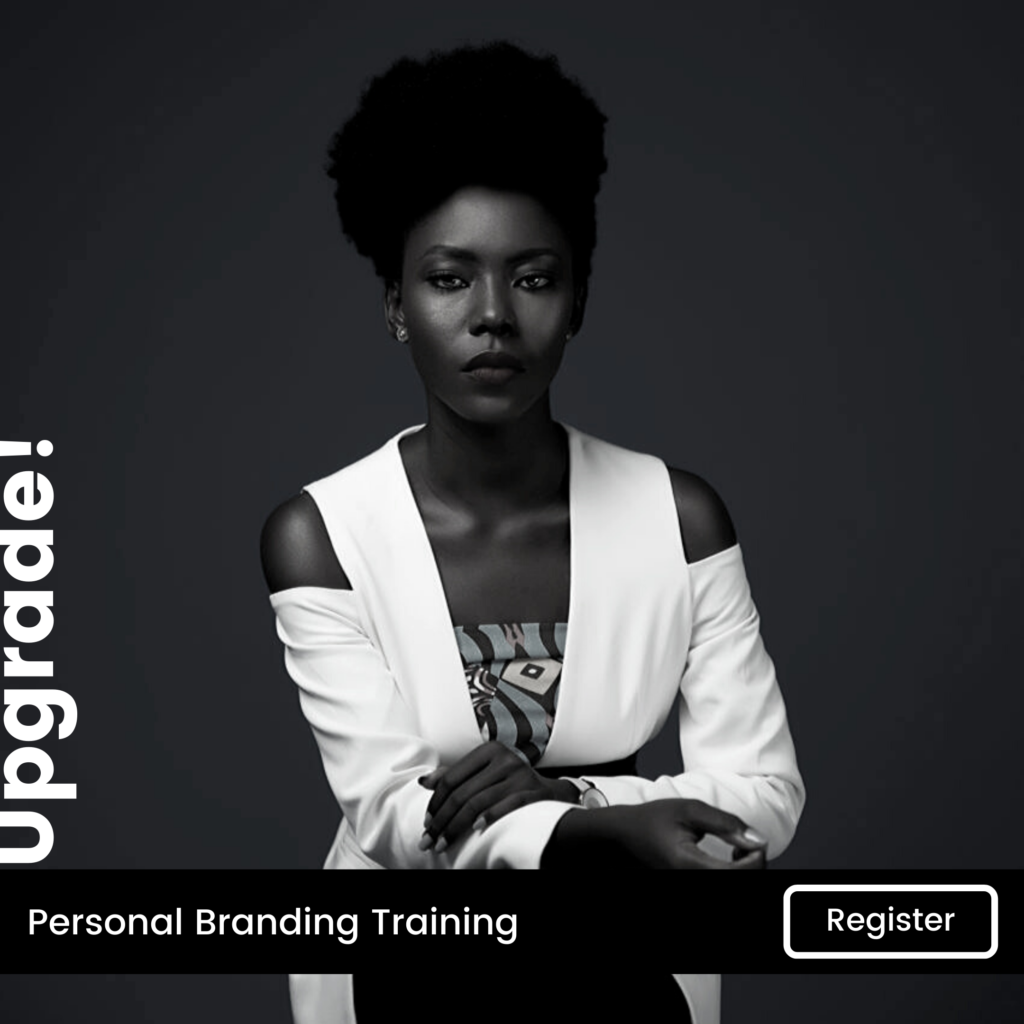 What Will You Learn
You will learn about personal branding in the most in-depth way possible:
Module One: Introduction to Personal Branding
What is Personal Branding
Why should you care about branding
Why you need a personal brand
Benefits of a strong brand
Mindset Makeover
Module Two: Discovering your Identity
Understanding Yourself
Discovering your Personality
Brand audit
Venn diagram of skills, passion, knowledgebase, and viability
Clarifying your value
Identifying your niche
Setting SMART Goals
Defining your WHY
Understanding your audience
Distilling Goals to Plans
Brand Mood Boarding
Module Three: Communicating your Identity
Establishing your Tone
Choosing your Platform
Choosing your brand aesthetics
Personal Style, Hygiene & Grooming
Content Strategy
Content Creation & Storytelling
Building a Community (Social Media, Email & Offline)
Pictures & Graphics
Email, Phone Calls, Messaging Behavior
Building Home Bases
Module Four: Building your Credibility
Building a strong network and partnerships
Developing Trust and Loyalty
Establishing Thought leadership and Influence
Long term projects
Module Five: Monetizing your Personal Brand
Positioning yourself for opportunities (Defining key services)
Researching Industry Prices
Finding your edge
Choosing your Price
Negotiation Tactics
Creating your Brand Kit
Pitching & Selling yourself
Finding your first client
Invest in Yourself
Benefits of This Course
You get this priceless information that I have learned in 4 years and learned from branding gurus. You also get access to me and three e-books that will definitely help your brand. I will also be available for a one-on-one 1-hour consultation online or offline (if you are treating me to a good lunch) to guide you through your brand and you will also get a 25% voucher from my company einsteinettelimited.com to build your site or create your logo.
All of these will naturally be valued at about 1 million naira but… I am giving this to you at a giveaway price of 150,000 naira offline (If you Register Now! you might just catch the window to pay just 50,000 naira for the course). The class is just for 10 people and registration closes on the last day of this month – March 31, 2020.
Class Date – April 18, 2020.
Duration – One Day
Venue – Only registered Students will be told
How To Enroll
Click this link if you are interested in registering for the offline training taking place in Lagos which gives you access to module one to five. There are only 10 slots for the offline class.
Ps: You can write to your boss or friend to sponsor you. Send them this page and let them know how valuable it is to your career. At the end of the day, it's all about evolving and Upgrading your knowledge!
Share this post on social media if you think it will be beneficial to someone. If you are already accomplished, feel free to sponsor someone to make their journey a little bit easier and make the world a better place. It's what Bill Gates, Ellen, Oprah or Obama will do, I guess.