#ENDSARS Whatsapp BCs for Parents
Want to send a BC to your parents and external relatives? These are a few BC templates:
Whatsapp BC 1
ATTENTION* ‼️‼️
THIS IS VERY IMPORTANT ESPECIALLY IF YOU ARE A PARENT WITH YOUTHS
A group of law enforcement officers called SARS have been terrorizing our young people.
If you are young, have a gadget, an interesting hairstyle (sometimes you don't even need to have an interesting hairstyle) or a laptop bag, you're automatically under attack.
Young people (our brothers, sisters, friends and your children) have been extorted, beaten and even in some cases detained just for being successful. That is their only crime. In recent times, this has been on the increase and a number of deaths have been recorded, with no action from our leaders.
So they have decided enough is enough. Joined by celebrities such as Folarin "Falz" Falana and Runtown, protests have been holding nationwide since Thursday the 8th of October, still we have no word from the presidency and no coverage from the major media houses.
We are calling on you our parents because we know the amount of influence you wield to join forces with us to #EndSARS. End SARS not reform it. We're tired of being extorted because we are trying to make a living, having our laptops taken from us, our phones searched and our accounts being emptied.
You can read more about how the protests are going here https://www.zikoko.com/life/citizen/the-police-are-harassing-endsars-protesters-1/
You can also call and email our reps to make them as uncomfortable as possible, you can find their contact details here https://nigeriansenators.firebaseapp.com
Whatever you do, please don't be silent.
Join us to #endsars.
We are tired of burying our friends, YOU deserve to reap the fruit of your labour over us but that won't happen if we're dead.
Help us by forwarding to all your contacts and taking action
Help us #ENDSARS
Yours sincerely
A frustrated but hardworking Nigerian youth
Whatsapp BC 2
The legs of the scorpion on the SARS logo are 6, the straps on this FSARS jacket are also 6. Police is a 6 letter word. That's 6 three times, open your eyes! SARS is 666, device of the devil. We must end it! When you turn 6 upside down it becomes 9 and F9 means failure! We are not failures and cannot be associated with the device of the devil! So we must #EndSARS #EndSWAT #SARSMUSTENDNOW #SARSMUSTEND #EndSARSNow #EndPoliceBrutalitynow #EndPoliceBrutalityNigeria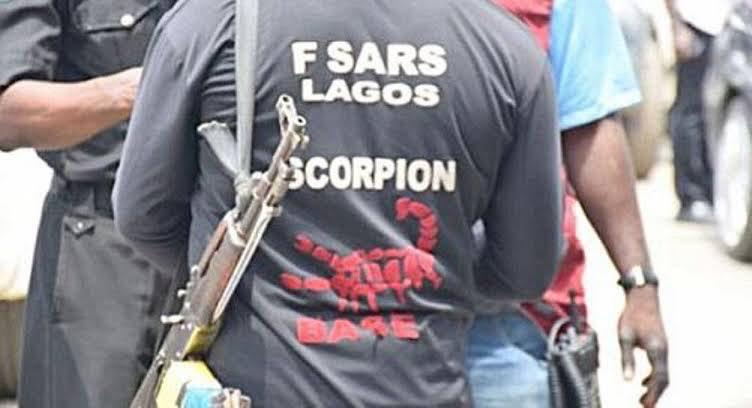 Whatsapp BC 3
A statement from the Youth
Over the last few days, young Nigerians all over the country have come out to peacefully protest in the thousands, demanding an end to police brutality and the disbandment of the "Special Anti Robbery Squad". On Sunday, The 11th of October 2020 the current DG of police released a statement claiming they were disbanding/dissolving SARS as a unit.
First, this is nothing new. In 2015, 2017, 2018, and 2019, the same proclamations and declarations were made and nothing changed. These officials remained on the road; raping, beating, kidnapping and stealing from young Nigerians.
Second, there is to be no reckoning according to the plans this administration has. All former SARS officials will be redeployed to other existing departments. That is a gross insult to the very many Nigerians who have died at the hands of these criminals. We demand a public inquiry, investigation and hearing into every death, and every act of brutality. If the police cannot hold itself to account, it does not deserve public trust and funding.
Thirdly, PEACEFUL Protesters across the country have been brutalised by the police; arrested, tear gassed, sprayed with water cannons, beaten and over 10 young Nigerians have lost their lives. Our protest has both been peaceful and respectful and well within our constitutional rights.
We are not criminals. We are not area boys. We are not hooligans. We are Nigerians who are FED UP and have decided we will do something about it. We inherited a broken system from you, but we want better for the generation after us.
Young people know that SARS is rotten fruit of a diseased tree. We want restitution, changes in recruitment and reform. We want investigations into crimes committed by police officials.
We also want a psychological evaluation & retraining (by an independent body) of all disbanded SARS officers before they are redeployed. We want an increase in police officers salaries so that they are adequately compensated for protecting lives and properties of citizens.
Young Nigerians' lives are worth more than a few hours of discomfort in traffic. If you want the protests to stop, start making calls. Call your boss, your local government chairman, your state house of reps member, your federal house of reps member, your senator, your governor, your government friends and enemies. They know what to do. We will not stop till our demands are met.
#ENDSARS #ENDPOLICEBRUTALITY #REFORMTHEPOLICE
#SARSMustEnd #EndSARS #EndPoliceBrutality
Whatsapp BC 4
What the youth are asking for
Whatsapp BC 5
When they ask you why you are still fighting after they disbanded SARS and replaced them as SWAT, send these images and add the hashtags – #EndSWAT #SWATMustEnd #SARSMustEnd #EndSARS #EndPoliceBrutalityInNigeria
Need more information or help to #EndSARS visit https://feministcoalition2020.com/